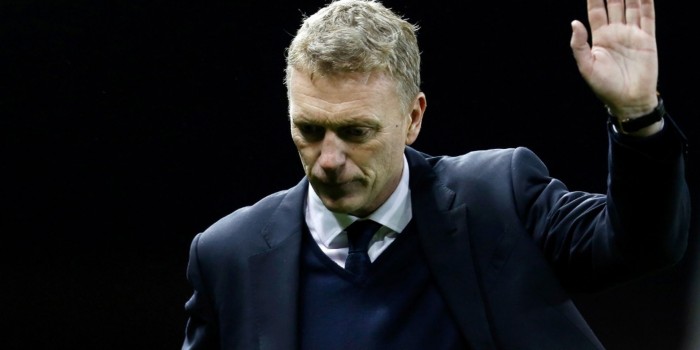 David Moyes near the end

I am sorry to see him go, yet also relieved, both for the team's and for his own sake. He was looking very puffy about the eyes in the last interview he gave to the BBC. Many people liked him and I liked him too. He seemed to represent some old values: integrity, decency, technical nous and the ability to build a team from relatively little. Whether these values are of use now in the days of megacash is hard to say. I wanted him to succeed and would have been happy with a top four place in his first season, as would most, I suspect.

But it wasn't going to happen, and that was clear fairly early, from his late arrival at the club and the difficulty of arranging any transfer apart from the rather dubious and very expensive deal for Fellaini, and then the alleged business between his daughter and a new young player, Zaha. Possibly as a result of this Zaha never got a look in and was soon loaned out, so someone people had been looking forward to - someone fast, skilful, exciting - vanished from scene before he'd started.

Off on the wrong foot, things didn't improve from there. The complete change of staff, the change in training methods, change in manner, and an awkwardness in dealing with people, talking about them critically in interviews, a good number of gaffes, the huge pay hike for Rooney who then became captain and played wherever he wanted - none of this helped. Nor did the departure of David Gill, the United CEO who actually conducted most of the deals, who was replaced by Ed Woodward who had neither the experience nor, it seems to me, the gravitas necessary.
In other words it was a complete clear-out apart from the old players and Fergie in the stands. Players with close ties to Ferguson were always going to regard the new man somewhat quizzically. When somebody has been in charge as long as he had any change was going to seem one for the worse.

Then there was the change in playing style. I saw United at Norwich and they were very timid and conservative, without much initiative or daring. Not particularly sporting either. They got a win by playing for a draw then did everything they could to waste time. That was below them. It was as though Moyes had managed to reduce their self-confidence and lower their horizons.

Maybe he had. The United crowd stuck by him at matches but he was trying their good nature and patience. In the meantime it was becoming ever more apparent that he was 'losing the dressing room'. Players had ever less confidence in him and the less they had in him the less they had in themselves. The one bright spark was the arrival of Adnan Januzaj who looked to me like a young Johann Cruyff and I believe he still has that potential, but little by little Moyes started dropping him and he began to fade out if only because he wasn't getting the chance to integrate with the team. There are some very promising young players coming up from the ranks or out on loan but he wasn't using them.

There was bad luck with injuries, of course. The defence was hardly ever the same from week to week, often playing out of position. In any case it was ageing. Buying Juan Mata was a desperate throw and an odd one. From having too few mid-fielders now he had too many and wasn't playing the best (eg Kagawa) in their best positions, possibly to accomodate Rooney.

The trouble was Moyes was looking to consolidate and change at the same time. Ferguson's authority wasn't going to carry him through a spell as bad as this. I was hoping against hope that things might improve for Moyes but by the end I had stopped hoping.

What does this show? That playing any game depends on confidence and that any important position depends on respect. Neither has been achieved, the latter almost impossible after Fergie. It has been a cruel process, as dramatic as most things associated with United, and particularly tough on the central character. Now the club will go for the best available foreign manager. I am sorry about that too but can't see any alternative.(I am, probably vainly, hoping for Klopp).

I wish Moyes all the best. This will have sapped his morale and energy. I continue to like him and hope he recovers from this as soon as possible. He looks to have aged ten years in ten months.

As for the team I have been with them since 1958 and have seen much worse than this. Supporters who leave now will be rightly regarded as 'glory hunters'. I'm just buckling in now that we are human again. It's not glory, it's romance that's the name of the game.