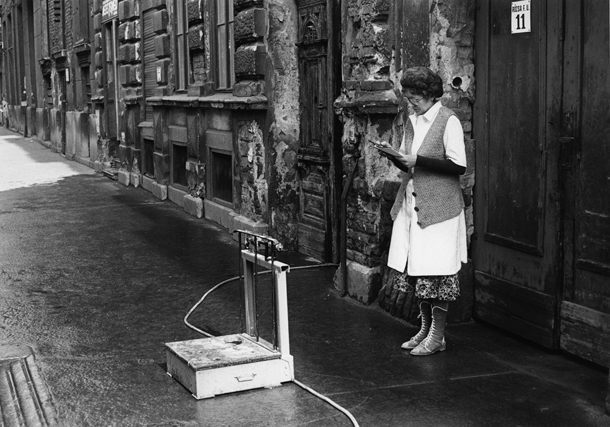 Hans van der Meer, Budapest 1986
The meanings of places change with the years. When we first came to Budapest in 1984, in my case after twenty-eight years absence (bar a brief broken-off
en famille
stay in 1968), it took my breath away. I fell in love with it. It was, as I have often said, a hallucinatory experience, as though a vast number of images and feelings had woken in me. The city was relatively poor, the buildings scarred with bullet and shell marks, the various statues and decorative figures that ornamented the mainly late nineteenth century buildings were generally blown away, their heads or limbs missing so they were left clinging to the walls by some miracle, almost wraith-like. Large areas of pre-war stucco had long dropped into the street and been swept away revealing patches of bare brick. Where there was repair work it was supported by a forest of wooden scaffolding that gave the buildings an Anselm Kiefer look. History was written right across the place, a history of war, revolution and shared hardship. I came as a poet and was officially welcomed and immediately entrusted with translation. I had not been a translator before but have been since then. I took on the work because, at some level, I felt I was translating
this
: the city and its world.
That was five years before the great change that shook, and is still shaking, the world of ever-since. The city is different now. I wouldn't wish the old dilapidation back - Budapest is a place where people actually live, not a film set - but I miss something of the old city's haunted warmth and openness. The open courtyards that meant so much to me then are mostly closed to visitors now. You can no longer wander into their private worlds with their faint domestic noises and specific squares of sky. There are one or two exceptions but that is the rule. One very important exception to me is the delicate, small, through-courtyard in Magyar utca with its wooden cobbles. No one has yet thought to update or renovate it. It has not been smoothed out. I pay pilgrimage there every time.
I wanted to show Stephanie something of Pest though I wasn't sure what it would mean to a thirty-two year old young woman who grew up riding horses. We got the 5 bus from outside the cylindrical hotel and got off at the Párizsi
udvar
(the Pariser Arcade) which was closed, so we crossed back to Ferenciek
tere
(Franciscan Square) past the old university library, to Kecskeméti
út
(út, utca = street) and the university church, then made our way to the Eiffel-designed Nagycsarnok (the Great Market Hall) and wandered round a while, returning past Kálin
tér
(Calvin Square) and past the National Museum. At Andrássy
út
we hopped on a bus to Blaha Luiza
tér
and walked over to the New York Cafe.
The New York caters chiefly to tourists now, but it has a magnificent over-the-top fin-de-siecle interior. It has three levels, the bottom of which is known as the Mélyvíz (Deep Water, as in a swimming pool). Before the war, and long before, writers used to work in the cafe, knocking out copy to give to editors who might well have been sitting where we sat now on the top tier, and where, in 1989 I myself sat with the editors of a new cultural magazine called 2001 which is now as gone as their title, though a large press photograph that I still possess shows us all sitting together, including me, as though I belonged there, though I was only dropping in. Having a formal - if not working - editorial meeting there was a homage to the old New York. Those older writers earned their coffee and possibly a meal too by producing articles and serialised stories. Though often enough going hungry, the writers were much respected. It was a very literary city. The old portraits of the writers who used to frequent the place were still there in the eighties but are gone now.
Nevertheless, here we were, so ordered a light bite and some water while the cafe pianist tinkled bar-room tunes three tables down. He came and asked if we had a request. I couldn't think of one. Later he returned with his CD. We might have bought one to support him, not for the music, though I suspect he was a far better pianist than his mechanical spelled-out playing suggested.
Then back down Kertész utca, my childhood street and to the Müvész cafe where Stephanie was to meet friends who happened to be on a visit, at 4pm. Our calling there was to mark the place so she should be able to find it. Then home via metro, where we rested and I wrote the last blogpost. We returned to the Müvész to pick her up and say hello to her friends (an editor at Faber and a parish priest, grandson of the poet György Faludi no less). With a couple of metro changes we arrived at the Gellért Hotel and made our way to the Pagony (Pagan) bistro to meet poet and friend Ágnes Lehoczky who writes in both Hungarian and English and lives in both places, teaching at Sheffield University. Ági was my student at both MA and PhD level in Norwich and has written a number of books of poetry as well as a study of the great Hungarian poet, Ágnes Nemes Nagy, whom I had translated for publication by Bloodaxe back in 2004. Ági smokes like the proverbial chimney (my personal observation is that far more women than men smoke here). We ordered beer and vodka and a bite to eat and chatted away for a good couple of hours while the evening grew colder. Afterwards Clarissa, Steph and I walked over Szabadság
híd
(Liberty Bridge) and along the Pest side of the embankment, down Váci
utca
to Deák
tér
metro station, thence under the river , catching a bus at the other end to get home.
I don't know how much all this means to people not from here, without my history. Clarissa gave over twenty years of her artistic career to Budapest, locating the haunting fury of the place as though guided there by artistic radar. Buildings loom, spectral cars zip past. people run down streets, courtyards close in, whole facades seem practically to fly in her work.
That too was my city.