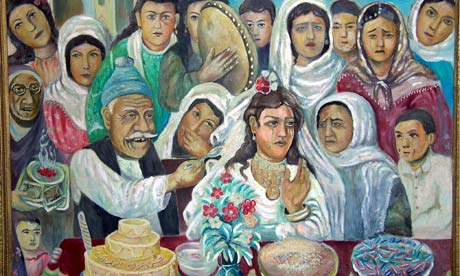 I read that the government is considering introducing a law banning forced marriage. Whenever discussion of this subject comes up it seems that only one party - the woman - is being forced. I asked the question whether or not the man was forced too. The very idea seems to have struck some people as quite unfamiliar. Following this, Linda and I had a good long telephone conversation on the subject. She had researched the subject and written on it for a Times article a few years ago. She gave me an account of what she discovered and the thoughts below follow on that.
.
Arising out of the conversation there seem be two major distinctions.
1) The distinction between forced and arranged marriage (as I understand it the former is an enforced version of the latter with some variants and differences.)
2) The distinction between the
forcing into marriage
and what happens
within
the marriage
afterwards
.
Is it possible on the basis of these distinctions that the proposed legislation is aimed at the wrong target, that the perceived disadvantage for the woman is not in the forcing but in the marriage arrangement itself? Linda and a few others have suggested that once the marriage has taken place the man may have greater freedom to enjoy affairs or simply female friendship once married while the woman is (always? often? in what proportion of cases?) confined to the house under the head-of-the-household, her mother-in-law.
Clearly, these cultural contexts are important. How far can or should legislation touch them? As regards the act of forcing, I wonder whether our European expectations of a romantic marriage, that in the great majority of cases involve the man proposing and the woman having the choice of accepting or rejecting, are offended by forced marriage because it removes the prerogative of the woman to accept or reject.
In other words we may be perfectly prepared for a man's offer to be accepted or rejected (that's his lot) whereas we are unprepared for a woman not to be allowed the choice (that's her right). The man, as a potential proposer in traditional European practice, has no right to receive any particular answer: the woman has a right to whatever answer she chooses.
Is that why the conventional Western response to forced marriage concentrates entirely on the woman, to the extent that the man forced to marry her is either non-existent or even party to the arrangement. He is never even mentioned.
Maybe his rights and feelings are of no importance because he is assumed to be likely to enjoy more freedoms in the marriage once it has taken place. Maybe so. But it is curious never to hear of the other party in a forced arrangement.
Here, however, is an article from today's Guardian that tells it from the
man's angle.
I note he has a Hungarian wife.