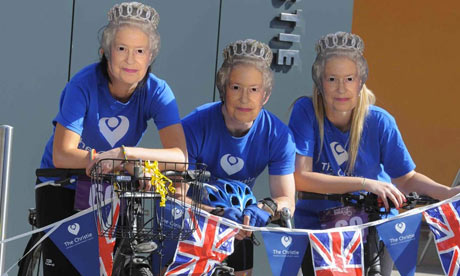 Dear Jubilee,
Many people have strong views for or against the monarchy. I don't. The monarchy is one of those facts of British life to which foreigners become accustomed, and if some of them remain bemused by it, as I do, it is only because they are bemused by much else.
The line I took on the jubilee elsewhere was a one-liner that went:
Thank you for taking me in. The bed's great and your taste in carpets is fascinating.
Even if my thought proceeded much further on the subject, I would, as a foreigner and beneficiary of the state's goodwill some fifty-six years ago and ever since, feel somewhat hamstrung in expressing an opinion.
Thank you for taking me in. The bed's great but your carpet offends my sensibilities
sounds so churlish as to be downright ungrateful.
Those who are passionate on either side of the argument have no time for such niceties chiefly because they have had no occasion to employ them. My domestic analogy might make some sense to them (
you don't piss on your host's carpet
) but it will seem petty in view of larger issues.
It does not seem quite so petty to me. Were I asked to construct a state I would not begin with a monarch or with any form of hereditary privilege, I'd go for a republic. That would make me a republican under most circumstances. I have in fact many British friends who are republicans, possibly the majority of them, but I move in the world of the arts where monarchists are rare. There are more fiery revolutionaries among them than you'd find in most literature, but then again they are mostly literary revolutionaries who have never seen a revolution in their lives nor are likely to see one. They are very good people and right about most things, and I am of the left - that is to say of their party - by instinct, but in this respect we differ. Revolutions tend to eat their children and I keenly agree with the principle that eating people is wrong.
This does not prevent me having revolutionary feelings about the usual things including the excesses of capitalism and the injustice of hereditary privilege, feelings that a severe financial crash fuelled by market greed might intensify. In so far as I am egalitarian and quite fiercely democratic by instinct I would, as I have already stated, be of the revolutionary party should an occasion for revolution arise, but I do not see it arising just yet. In the meantime I lack the capacity to make even a show of literary revolutionary gestures.
And yet there is something disgustingly grovelling and toadying about the rhetoric afforded to royalty on royal occasions. I have friends who are monarchists, friends of quite conservative views who are intelligent, decent, sometimes quite brilliant people. They are not of the highly privileged classes and have no great sum of possessions, but they do have a belief in continuity, in a sense of obligation to history, in a scheme of values that is not inimical to a humane existence. I cannot quite see them toadying to dukes and duchesses simply because they happen to be dukes and duchesses. The toadying would, I believe, disgust them too.
*
We spent the broad middle of the day with our daughter, her husband and our grandchildren, leaving the TV on in a desultory way, occasionally glancing at the flotilla as it moved down the grey Thames, the Queen clad in white samite, mystic, wonderful, and Kate Middleton aflame in red like a self-combusting postbox. The gilded barge looked as if its prow had been anointed with yellow ice cream. The boats moved by, the oarsmen raised their oars and everyone was proud of being where they were precisely at the moment that they were there. The BBC, when we could hear it, was at its unctuous worst, toadying and blathering for all it was worth.
I realise my description of the events above is a little like the so-called Martian poetry of the Eighties so let me continue speaking as a Martian.
As a Martian visitor to your shores, on the very point of sending a postcard home, I pay respect to your ancient, honoured, somewhat extraordinary customs and am grateful for your kindness in accommodating me. Furthermore, seeing how your planet seems to be a happier and less barbaric planet than mine (which has had a few revolutions of a not entirely literary kind) with, it seems to me, more enlightened and generous people in it, such details as barges and kings and queens and even hereditary privilege (our rich parents tend to have rich children back on Mars), I am content to remark only on the fascination of your carpets. Your cruelties are genuine cruelties, of course, but they are less crude than ours. Should you happen to change your carpet I would find that highly understandable but, as things stand, I couldn't possibly comment and remain your humble Martian subject. Signed, etc.