Home a little early. C outside points up at the enormous walnut tree at the back of the house, now full of birds all chittering away, filling the ear with that lovely burbling. She starts telling me the birds she has seen in neighbour E's garden during the day. Wrens, blue tits and four goldfinches. I can't tell what the birds in the walnut tree are. At this distance they might be sparrows.
Next thing C is tapping at the window with the binoculars in her hand. It is getting on to dusk so I can't be sure, but I am pretty sure the birds are goldfinches. At least fifty of them all excited, congregated on one walnut tree.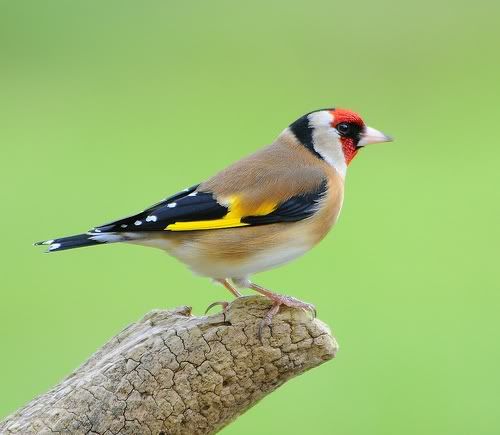 That's a pretty good likeness. It was the heads I could just about discern - that distinct tricolour. Manchester United colours: red, white and black. They must be the avian spectres of the
Glazers Out!
faction. No doubt they'll soon be descending on Old Trafford. Though, come to think of it, the anti-Glazers have taken to wearing green and gold, as for Newton Heath, the club that preceded United.
Maybe more than fifty. Maybe a hundred. How wonderful!