The first one jumps out at you shouting BOO! Oh the woes and terrors of childhood! Woe, woe, and thrice woe! Can't find the drawing for this now but it will be around somewhere.
BEWARE OF THE BEAR!
O parent behold your slumbering child
within the arms of the bear.
The animals round him are fearsome and wild
and threaten the babe in your care.
Wild asses, wild piglets, wild dolls and wild mice,
wild woomeroos stranger than dreams,
from realms of
Chaotic
and
Rough
and
Not Nice
,
from
Cities of Sorrows
and
Screams
.
O child, remember that tight little suit
you wore when you slept in your cot -
when you were still safe from the
Foul
and the
Brute?
Well - once you get out you are not.
Caution's the word. The world can be awful.
You don't want to end up a grizzly bear's jawful.
and, complete with Helen's drawing..
DOWN WITH BOYS!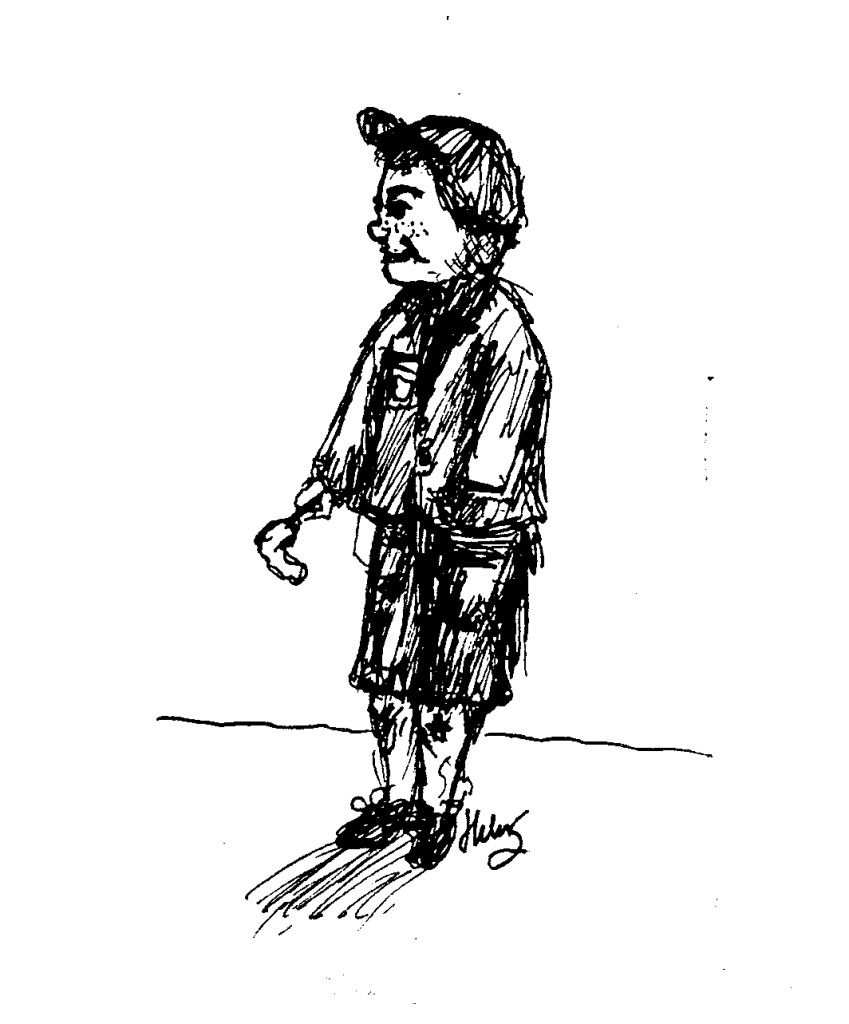 Frogs and snails, frogs and snails,
This boy here's as hard as nails,
Hard as nails and tough as old boots,
Solid as an oak from crown to roots,
Solid as an oak and thick as a plank,
If you hear the sound breaking glass you'll know who to thank.
You'll know who to thank, you'll know who to blame,
You'll know who'll keep on breaking glass just the same,
You'll know his wicked eye and you'll know his wicked ploys
And you'll hear the righteous crying out against small boys:
Down with boys, down with their eyes!
Cut the little Goliaths down to size!
Confiscate their catapults, remove their grins!
Tie a ten ton weight around their shins!
But just when he is chained and gagged and trussed,
CRASH! another window-pane bites the dust.
**
[...Lad just off to a demonstration...]