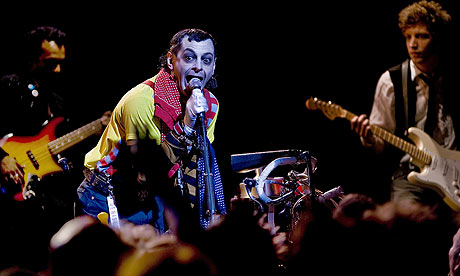 There is Ian Dury (with Blockheads) and there is the
film
. This time just Dury.
Ian Dury
Dury is interesting on two counts. He was a very inventive lyricist working with a terrific band, without whom he would have been much less; and he was a rare example of a man whose vast energy fed on his disability. The lyrics could be sexy, aggressive, and grotesque, as well as tender, sentimental and nostalgic, the rhymes part of a persona that was as theatrical as the Joel Grey character in Cabaret: Joel Grey crossed with King Kong. At the same time it carried a lot of British echoes: echoes of Kipling and Bill Sykes and Noddy Holder. I say British, but I mean English-British really. I couldn't see Dury as Scottish or Welsh or Irish.
Dury was never quite punk. Punk felt to me like an intellectual gesture, a feeling that was a thought. It immediately spawned writing and theory. In that sense - in the sense that it was theoretical - it wasn't fully English, not, at any rate, as I think of English. Dury, though an educated man - Royal College of Art, and clear references to reading - was more belly-wit and in many ways more troubling than punk. Punk aggression was a fully articulated conscious gesture. Dury's demon worked its way through the body into word, heavy blurty body-words that needed an agile body music like jazz funk.
I liked the struggle, the way the demon got smart without losing its energy. The struggle was with the chains of the body. The struggle gave him energy, and the energy gave him wit. Struggle, energy and wit made for exhilaration. The best songs - and there are probably not that many of the best ones - I find enormously exhilarating. How much of that is down to Chas Jankel and the Blockheads? A great deal.
So what is the troubling part? Is it that slight air of self-satisfaction? The brutality? Something of the wrestling ring, something of the circus, something of the institution?