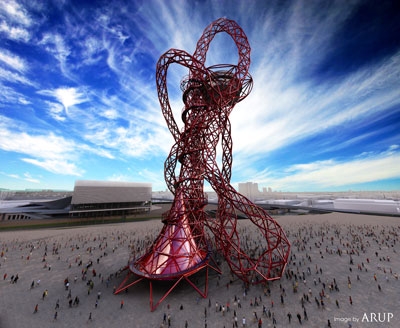 I know we intelligentsia (
actually, I'm an art school oick
) are supposed to leap to the defence of any work of contemporary art under potential attack. We guard the gate against the ignorant, retrograde, reactionary,
lumpenproletariat
as well as against the smug, jobsworth,
petit bourgeois
in the name of the cultured, the cool, and the cutting edge. We are for the challenging, the edgy, for the art that asks questions, for anything the
lumpenproletariat
and
petit bourgeois
are sure to hate.
And, actually, I am, I truly am (
you don't know how desperate I am for you to believe this!
) a considerable admirer of Kapoor - his sculpture rather than his reasons for it, his sheer excess of size and colour, his voluptuary sweetness and savagery... but this looks (
lean closer, I must whisper it
) 'a mess'.
You want a comparison? Of course you do! It's hard. Shall I say 'tangled telephone wires'? 'A stethoscope'? 'The Eiffel Tower after Godzilla has been through with it?' (
Yes, I know people didn't like the Eiffel Tower at the time, those damn reactionary bourgeois! Please, please, please don't mistake me for one of those!
)
Damn! You heard! I'll never live this down. Keep it to yourself. Unless, of course, I revise my opinion.
ps The clouds are pretty good, if a touch formalist. I'm also looking forward to the first man who climbs it.