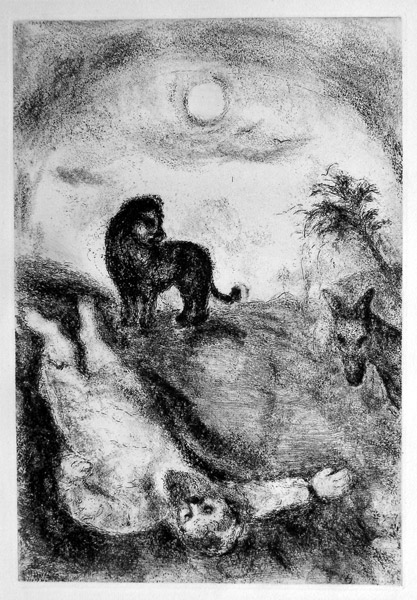 The Lion's Mouth
I have been wondering how to draw together the three or four strands of this series in the hope that the drawing-together might reveal something.
It might reveal something, not exactly in the way of absolute truth, or even in the way of the self, because the self one writes is the result of a negotiation with language in which words are as likely to produces states as states are likely to produce words. It is the interaction that produces what we may think of as personality, or character, or soul, or maybe just a particular mood. Nevertheless it's what we have registered as soul and these very words confirm the act of registering.
We like quick identifications and demand the short cut. It is all but unavoidable that we should do so because life is too short to examine everything in proper detail. One might be aware, for example, that, in writing about Israel, any statement is going to be read by many as a quality of person or soul, which soul will then be consigned to the location convenience dictates.
If X thinks Y,
goes the argument
, s/he must be of the group Z of which we have opinion Q.
The result is that we listen to a few trigger words and leap to the position required in respect of Z and Q. It certainly stops us listening to anything else.
I don't want to be hypocritical about this. I realise I do it myself, but here I am noticing it.
*
One of the things I noticed about attitudes to Israel is the point at which they changed. As Nicole in the comments column of
an earlier post
says, and as I myself knew first hand five years later, the common left view in 1967 in the west was that Israel was - in principle at least - an idealistic socialist country, and that the survivors of the Holocaust (which it did not then question, or find boring, or regard as an underhand rhetorical device) had set up a new country in the
Negev Desert
with only a narrow strip of coast to work on, and that this new state, just nineteen years old then, was surrounded on all sides and threatened with extinction.
After 1973 things were different. Why?
It might be partly
because Israel had not given back the territories it had occupied in the course of war. The West Bank was not annexed but was declared a special occupied area. To have immediately returned it and the Golan Heights would have seemed surprising, as if saying to Israel's enemies:
These are the strategically important places from which you, who wanted to push us into the sea, attacked us; here they are, have them back, better luck next time.
The settlements have gone on since, not because it was right that they should but, at least in part, for the reasons given in the earlier posting referred to above: perceived strategic vulnerability.
These things may be wrong but they certainly happen and have happened through history: they are certainly negotiable and redressable, but I sincerely doubt many other countries would have acted very differently under the circumstances.
But it might also have been partly
the case, or so it struck me at the time, that after 1973 - the year of the
Yom Kippur War
when Egypt and Syrian combined against Israel - circumstances changed. They changed primarily as a result of the
oil embargo
imposed by OPEC that compounded a
stock market crash
in early 1974 which impacted dramatically on the UK. Edward Heath was Prime Minister and the miners were on strike. Together with the oil embargo that led to the three-day-week, and the defeat of the Tory government. There were IRA bombings.
It may be that the change in attitude to Israel was prompted entirely by the realisation that the left was backing the wrong moral / strategic horse (under the circumstances of the Cold War, the Soviet Union was an ally of the Arab states), but I wondered whether home political conditions played a part. The
Munich Olympics murders
of 1972 - that the current games, precisely forty years later, should have been commemorating if only by a simple gesture - were less of a shock by 1975 than they had originally been.
There was, I admit, a part of me - I was still relatively uninterested in Israel, regarding it as the proverbial small faraway country that had not much to do with me - that wondered whether the oil crisis, combined with the stock market fall, the strikes, the three-day-week, and the IRA bombings, had not led many to conclude that all this was too high a price to pay for Israel and that the oil producing countries were far more important.
It might even be that the great moral outcry might, to some extent, have sprung from economic and strategic considerations. God forbid! It's certainly when the sea-change began.
*
Public morality is like a tide. Once it begins to roll one way it is all but impossible to stop it. There could only be one victim and only one perpetrator. Positions in such matters become so entrenched in the mind one completely forgets they are positions with a history. They become eternal heroic truths the honourable must not betray.
The Plump
, in his comment on my previous post, suggested I had put my head in the lion's mouth. I agreed that it felt like that, while thinking that all I had done was to point to a set of generally recognised facts without beginning to mount an argument. Who or what was the lion that was ready to bite my head off for doing so little? I ask because with this post the lion's mouth remains open and my head is still there.
*
It is interesting to smell of lion's mouth. I expect I will for a while. I must now be of party Z of whom the opinion must surely be Q. Or if not quite that, someone to be treated a little gingerly, and maybe avoided for a while until the smell wears off.
The first time I wrote anything on Israel on the blog one person wrote to me asking why I hated Muslims. I pointed out with some astonishment that I hadn't mentioned Muslims or expressed any particular opinion on either Muslims or indeed the Israel/Palestine question and asked him to point to any passage where I had done so. He soon admitted that I hadn't said what he had wanted me to have said but carried on fuming in the certainty that I must have thought it. I told him I was in favour of a two-state solution along agreed lines. He told me he was not. Only one state would do.
(To put the record straight I do not hate, or dislike Muslims. I have no firmer opinion of Muslims than I have of Christians or Jews or Hindus or Buddhists or agnostics or atheists or of any particular ethnic or religious group. They are all, as am I, members of the human race. We talk to each other.)
I know this will sound strange to some but here it is: I am not arguing for the rightness of the actions of the state of Israel in this or that specific case, and certainly not for its infallible rightness (I leave infallibility to Popes). I argue for Israel's existence in security. I think the lion is wrong.
Some of my dearest friends - still friends - have told me they think Israel's time is up, that it has lost its right to exist. It is on that we disagree.
But that way Z and hence Q and hence the lion's mouth.
*
I still haven't joined the strands. Still trying. I am thinking that
milieu
is the complexity I have inherited and to some extent continue to live in and by and that
refuge
might be a rational, tolerant, liberal England; and that the last refuge might be Israel. For the conceivable future I have ruled Hungary out. Fail again then. Fail better.