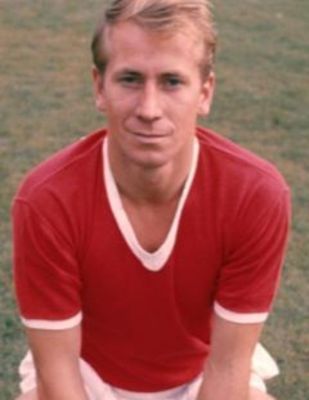 You can't help but notice you are growing. Your body changes shape, you sprout hair, you are becoming a creature alien to yourself and to your parents, to the world. No wonder teenagers love scary films full of transformations and violence. The energy is there but so is the fear and you don't know what to do with it.
I think the first time I saw Manchester United in the flesh was at Fulham when Fulham had players like Jim Langley and Johnny Haynes.
Names. Names mean nothing and everything. Decades later they toll you back into some small booth of your life, the kind of booth you used to get in record shops where you could listen to the record before you bought it. They were like phone-hoods, like the kind of hairdryer you saw in women's hairdressers. Mention a name and a face swims up at you, or a moment of movement, or a voice echoing out of an unseen space.
In front of me on the field the Manchester United team of 1960. I look up the date now it says 26 March 1960. That seems right. I think I remember a spring day. If it is 1960 the team is: Gregg, Foulkes, Brennan, Carolan... more names, but wait. It can't be that date. It must have been 28 April 1962. In 1960 United won 5-0, and I would remember that. In 1962 Fulham won 2-0. That is less memorable.
And now it comes back. I am very depressed by the loss. We are outside the ground and I ask my father (in English by now, Hungarian seems to have disappeared into thin air):
Do you think we
(gulp)
will go down, dad?
I am almost tearful. And he says,
No
.
I am consoled but my father's voice is no longer the voice of God. He can't ensure United won't go down, nor can he know that they won't. It's not in his power. His powers are limited. In fact United finish 15th and the next season is even worse: 19th. Almost down. (Manchester City and Leyton Orient go down that year.) I am squaring the tragic heroes of 1958 with the team in transition in the early Sixties. Not that I understand such terms as 'transition', not really. I understand it as danger and the hope of rescue.
Because by now it is deep within me. What is? A sort of story. It is not exactly what theorists call a discourse because there seem to be no dimensions to the story apart from the sense of anxiety and relief you process as a story that has a beginning but seems for ever to be improvising itself into a potentially tragic pattern. Loss is not only depressing: it is a form of humiliation. The heart goes into hiding. It is not from others. Others don't care. I have no sense of what it might be like to be a Fulham supporter. They are another planet, as is everyone else. The humiliation is of the loved object, and the lover is bound to feel it as his own humiliation. It is mirrorless.
*
The young men on the pitch are fragments of my psyche. I have fallen in love with Bobby Charlton. It is a distant romance and perfectly satisfactory in that form. He is like an older brother I will never meet, and that too is satisfactory. He glides, he swerves, he homes in, then he unleashes. These movements are metaphors as much as events in a script. Bobby Charlton is the benign worker-gentleman aspect of the nation which is, I assume, my nation. The rest of the team is vital, but there is a core to it, an embodiment. Bobby Charlton is that embodiment.
He is also, by default, my embodiment, only with a better body. What he does is not impossible. It is not inconceivable I should be able to do such things. That's the tangible part. I must work. I must run faster. I must glide, swerve, home in, and unleash. These are beautiful things to do. They are possible. And listen! He is a survivor of the great crash. And here he is, alive and cruising. Life can be like this.