Picasso: Bull-headed Sphinx, Etching, 1933
I am not sure how Picasso does it. He takes the classical and he draws graffiti all over it and it's still the classical. Those four children's faces are clearly derived from the Greek model, the brow forming a single line with the nose. They have a clarity that is calm and unruffled even when faced by this extraordinary monster that seems to be of one body with sea and sky, all turbulence, all menace, all baroque curve and phallic aggression. And yet it too is calm. Calm as form. The composition is balanced.
The balance seems almost accidental - a kind of scribbled balance - but it's as if Picasso couldn't help but balance. Let everything be ruffled and furious and staring and even nightmarish: still it remains distilled. Distilled form is the core of classicism.
Distillation is an imperial cheat of course, a game. We know the world is not distilled into perfect form. We know the world's clumsiness and jaggedness. We understand splatter and squelch and droop and dislocation. But here we are: balanced, looking the terror in the eye and finding it too is balanced and distilled. He/she is like Rilke's famous angel, the one that
serenely disdains to destroy us
because its nature is serenity.
But how does Picasso do it? Can we, for a second, believe in the skeleton under the body? Can we make sense of the body at all when it looks like, say, this, or this: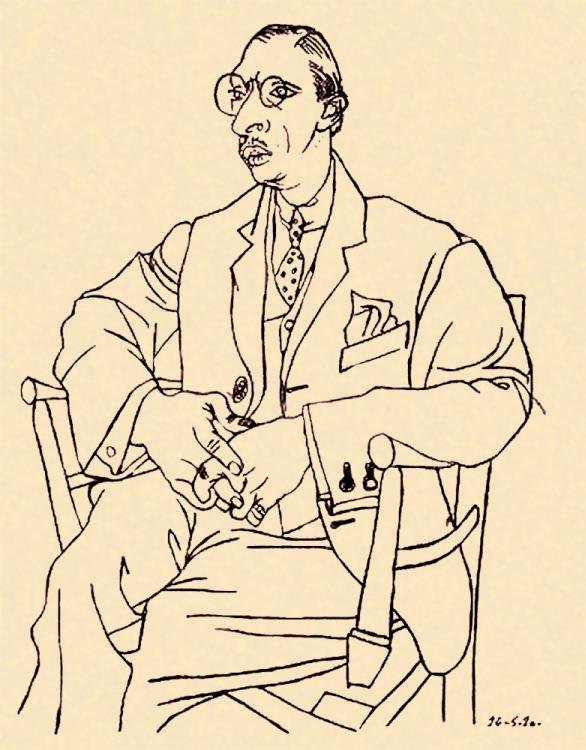 The strange thing is that it is precisely the substructure that holds things together. But it isn't an anatomical substructure: it is a distilled substructure, a substructure of notions and ideas inside a code, as if the proportions of the body were immutable, permanently inscribed, carved into an ancient tribal language of psychological forms. And it calms us. It calms
me
anyway. I know, when looking at it, that real terror is only an imperfect copy of distilled terror, a distortion, a ballooning shape from a hall of mirrors. In other words art, or the spirit, or the imagination, or the 'rule' - that rule by which Matisse's
luxe, calme et volupté
remains alert and not merely sloppy, is stronger than death.
In a way.
In a very distilled sort of way.
So Picasso is both ugly and beautiful, both the terror and the distillation. And those four children aboard the lost ship are not the ones menaced. They are in control:
Soyez douce
, they say. And
douce
he is.
I prefer this to the myth of the lady and the unicorn. That lady has always been a bit too schoolmistressy for my taste.