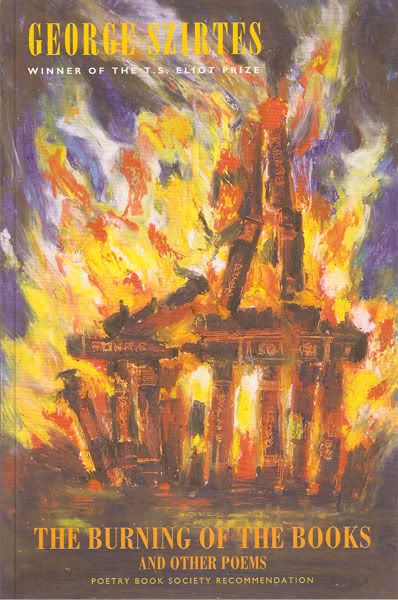 Advance copies arrive of
The Burning of the Books and Other Poems
, due out end of September. A Poetry Book Society Recommendation. The Bulletin (written by Eva Salzman and Paul Farley) says:
The T S Eliot Prize brought George Szirtes to wider prominence as one of this country's leading intellectual writers... Both weighted and enriched by heritage, his is a European visionary and multi-disciplinary sensibility straddling time and dimension restrictions, mostly within strict forms, with a manifold awareness that renders disparate chapters of history contemporaneous with each other.

His prodigious technique is demonstrated by the structural narrative of the collection in its entirety, whereby the couplets and tercets regularly employed throughout bear fruit in the virtuoso canzones punctuating the groups of poems... part of a kaleidoscopic range of refrains and cross-references binding the different sections.
The
new poem on the front
is the third of the wrestling series. The whole series appears in the new book.