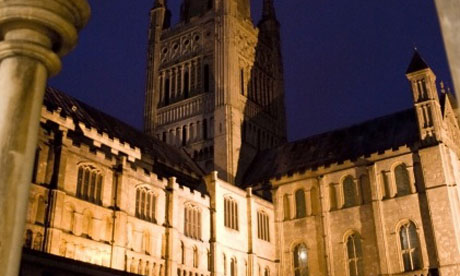 A nice day, I should stress, in the fully meteorological sense, and that is not a set of words I could have put together with any conviction in the last month. It has been the wettest drought on record and - in these parts - it still is.
It's the Norfolk and Norwich Festival and today was the day of
Singing the City
for which Andrew McDonnell and I wrote some text, though you won't see that in the link. And maybe there are reasons for that. I love hearing choirs and hearing words sung but the two don't necessary go together. The choir usually wins and sometimes I think it might just as well be singing the directions to Kidderminster. You can get soul into anything if you try hard enough.
There was something nicely organic about rolling through the streets with a crowd to the beat of a drum. There was one gorgeous moment when we stood under four open windows from which soloists were singing in rounds and counterpoints. Some of the time the choir was divided, singing in two different places at once so one was bound to miss parts or lose track occasionally, but it was still a kind of magical event, a blessing of the streets.
Odd for us though as poets. I wrote a set titled
Frozen Music
, a processional which actually does appear on a website.
This one
. Was any of it sung? It might have been, and very well at that. I just don't know. They sing everything well. For the final piece of the daylight performance they sang the
Norwich Patriotic Society Manifesto
of 1795, which the original writers would not have imagined set to music, and it sounded great, especially in such beautiful settings, on our first fully lovely day.
And it's all lovely though I can't say I have felt part of it, and maybe it's right that I shouldn't have, though, some time, it would be nice to develop a text in full collaboration with the composer. Perhaps it won't happen. Andy and I read two pieces each from what we actually had written in a lovely small cafe,
The Briton's Arms,
that seats about a dozen people in its front room. We performed then went out and rolled along with the rest of the audience. I suspect the cafe venue was a late thought but it was perfectly nice.
And the evening was spectacular, first in the night cloisters then in the cathedral itself, beautifully stage-managed and sung. A continuous lilting mysterious uplift.
Would I do it again? Probably not. I'm not entirely an uplift person, nor, I suppose, an altogether music person. I like words: they have their own deep interior music. That has been my life. Words set themselves.