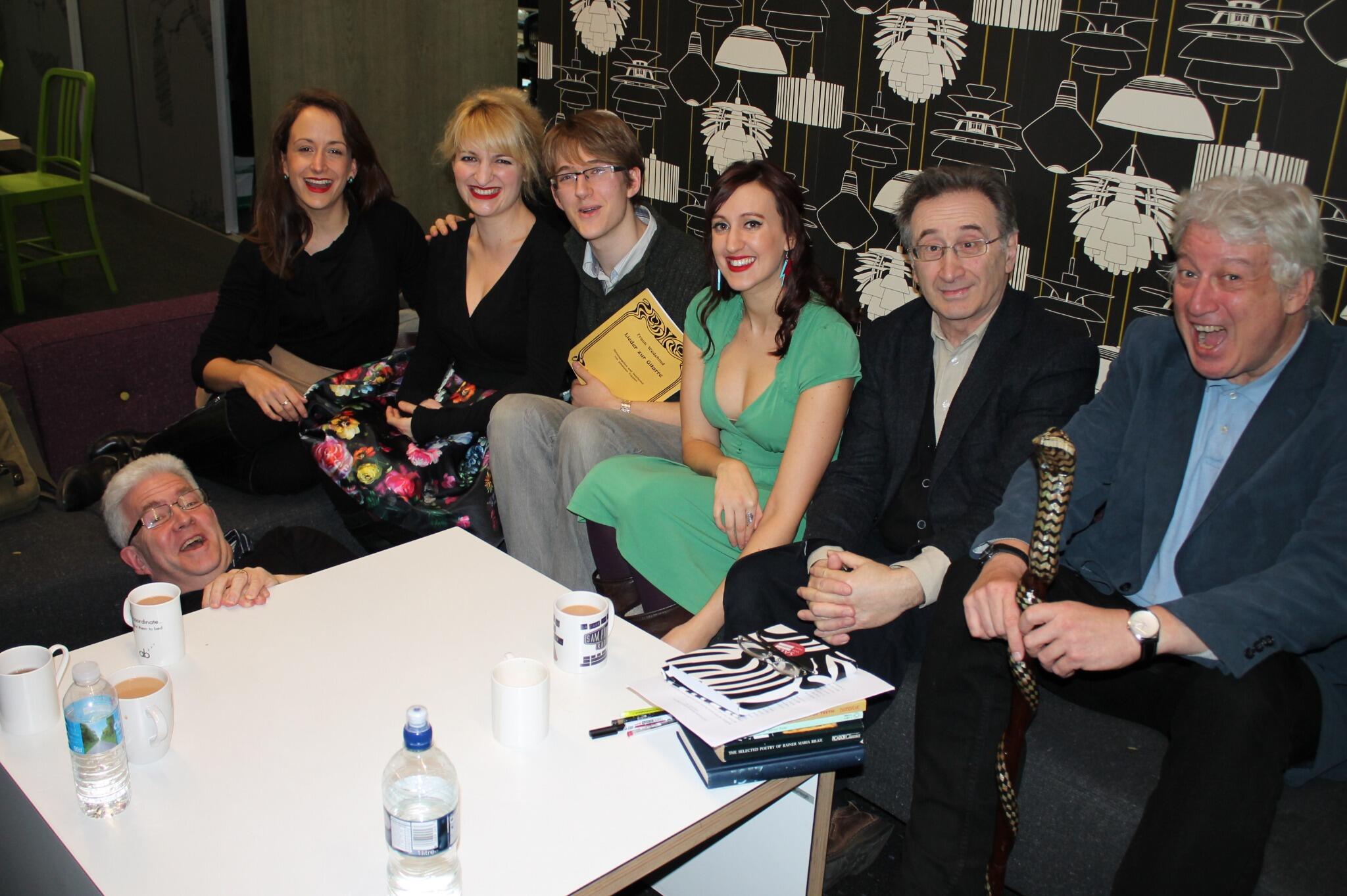 Ian under the table, Ruby Dolls, myself, and Kevin pre-recording.
It's a longish journey of some five hours to Manchester Oxford Road and slightly longer back, so altogether almost eleven hours travelling in the day. My nights have been a little rough over the last week so, having been down to London the day before, I was tired to start with, but a train is good for reading, looking, thinking and scribbling as I wrote last time, so it is not so much tiredness as a semi-soporific state one attains from which arrival and the concomitant weather conditions pluck you. From Wymondham where we live it is a train ride to Thetford, then a change to the two-carriage rough-and-ready Liverpool train that trundles all the way to Nottingham without refreshments proceeding then to Sheffield and Manchester, so it's best to take a thermos and something to nibble.
Manchester Oxford Road was damp rather than wet and the taxi sent by the BBC arrived within five minutes or so. The friendly driver gave me a fragmentary tour of the city, pointing out Old Trafford once we were in Salford. He himself had been a season ticket holder some years but had given up a few seasons ago because of the distance to his home. He had seen Best and Charlton, just as I had. Unfortunately he didn't quite know where to drop me, so instead of Dock House in the dauntingly named
Mediacity
he stopped at Dock Adminstration. Wrong Dock. Then he thought he should drop me at Holiday Inn, because that was where he was originally told, and we finished up at Costa Cafe from where it was a short walk.
Mediacity in the rain looked rather bleak to me, as though it had torn itself away from the Industrial Revolution to enter a postmodernity that wasn't quite going to work with the full chutzpah a name like that implies. Dock House itself is spectacular enough and the entrance hall has three or four gizmo-like booths displaying the latest technology though two of them were switched off. Almost everyone passing through the security doors looked very young so it felt like being in a sixth-form college.
Once upstairs it was decidedly more fun. Everyone was already there:
Kevin Jackson
and
The Ruby Dolls
(only three of the usual four), with their instrumentalist, Ben and of course
Ian McMillan
who does a wonderful job of the programme every week.
Lucy Hughes Hallett
was not in the studio but in London to talk about her prize-winning biography of D'Annunzio,
The Pike
. The Dolls were appropriately vivacious and bubbly, Kevin, whom I had met before (we had done a programme about Humphrey Jennings and possibly something of mine a few years ago), was delightful and encyclopaedic, carrying a whole library of books with him. The photograph above shows Ian under the table. We didn't put him there. It's just the way things happen.
In the studio we took our turns starting with The Ruby Dolls, then Kevin's imagined funny and moving scenario of a meeting between Proust, Rilke, Akhmatova, and D'Annunzio, then Lucy on
The Pike
, then me on Rilke and Békássy with a little Langoustine thrown in. The Dolls sang two songs from Frank Wedekind. You can see a clip
here
. They were marvellous, sharp and buzzy.
Afterwards there were cakes and tea, Ian remembered I had been on the pilot show for The Verb, years ago, talking about George Barker on a programme that, being a pilot, was never broadcast. (Last time I was on it I had written a special short film-script in iambic pentameters about 'the numbers game' - the things one does!)
Then taxis. Or it should have been but they didn't turn up so we hung about outside The Holiday Inn. Eventually, after about half an hour, one arrived and, because I had a specific reservation, was urged on heading for one station and one line, while the others all required the more frequent London train.
The ride back was long and slow, the train ever later with every stop, so by the time it got to Peterborough it was over 20 minutes late and I thought I'd be sure to miss my connection, but we made it with two minutes (rather than over twenty minutes) to spare. One the very last leg, at the very last station before Wymondham, two tall, glamourously dressed working girls got on, both drunk, one more than the other. The very drunk one was swearing profusely and was clearly in a mood to engage everyone's attention. We exchanged a few pleasantries, then she reeled off towards the toilet. Her friend, a very pretty blonde girl, turned to me and apologised for her friend. 'She hasn't been out of Attleborough for ages.' I sympathised and wished them well.
Clarissa was waiting for me at the station. Just as well. I had very little energy left. I had started sniffling and sneezing.
On Sunday the Eliot Prize readings.