There were going to be seven but in the end there were five, without an interval, roughly fifteen minutes each: Nathan Hamilton, Vahni Capildeo, Jack Underwood, Ágnes Lehoczky and Luke Kennard (who I saw again last night in a quite different venue).
Interesting things are happening in poetry. The old division between 'mainstream' and 'avant garde' is breaking down, much as such divisions broke down in music. The sampling ethos that results in mixed genres and people listening to - and indeed playing - various genres of music without being tightly or exclusively attached to any was bound to leak into the other arts. Embattled modernists with white hair and grim expressions do not necessarily battle over the sword of truth and the shield of righteousness with gritty, suave or simple-minded mainstreamers.
There is still detectably a mainstream in terms of major publishing - it is what is determined primarily by Faber, Picador and Cape alongside the major magazines, with Bloodaxe and Carcanet in the wings with their rainbow armies, but there is an intense swirl of activity off-centre, so someone like Jack Underwood, who is in many ways, of the centre, sits perfectly well alongside Vahni Capildeo and ÁgnesLehoczky who are both remarkably vigorous, original writers, but whose relationship to the centre is more intermittent, if not nebulous.
Luke Kennard is not of the centre either though he is quickly making himself central through sheer popularity. His line is not far from that of Peter Redgrove on the one hand and early Paul Durcan on the other, which isn't exactly English mainstream (especially with Durcan being Irish), but it's not a tiny rivulet either. There's Ivor Cutler in there too.
Nathan Hamilton is also at an interesting angle to the English mainstream - the voice a touch American, a touch minimalist 1970: a touch Berryman-a touch Ian Hamilton (his uncle in fact). A touch of tragic sharpness there.
Lehoczky's roots go to the Hungarian Ágnes Nemes Nagy, and beyond her to Rilke and Beckett into the realm of philosophy as sensibility and raw nerve. Her prose poems are a constant questioning of appearances.
Jack Underwood is moving from an Armitagean position to something darker, more biting, with a superb ear for cadence to see him through whatever route he takes. He is funny too, open and clear.
Vahni Capildeo has a remarkable range and could - to change metaphors - swim in almost any ocean and probably needs to. Her imagination works on the grand scale but is in touch with the strangeness of contemporary daily life too. Great surges of metric tide there.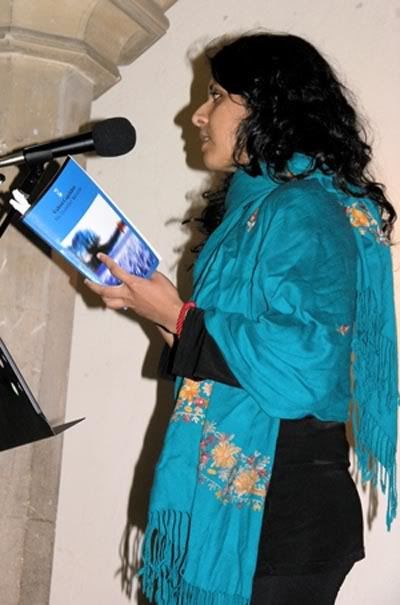 Vahni Capildeo reading
I think all this was evident in the readings on Friday night. Despite all the doom about publishing and poetry in general I suspect we are living on the edge of good times. The web does in some ways equalise advantage and, frankly, I am glad it does so. There is still the great hidden bank of history to accommodate in contemporary consciousness, the sense that 'now' isn't everything, but the best young poets sense that. Sampling is historical as well as stylistic and that takes time. And history.