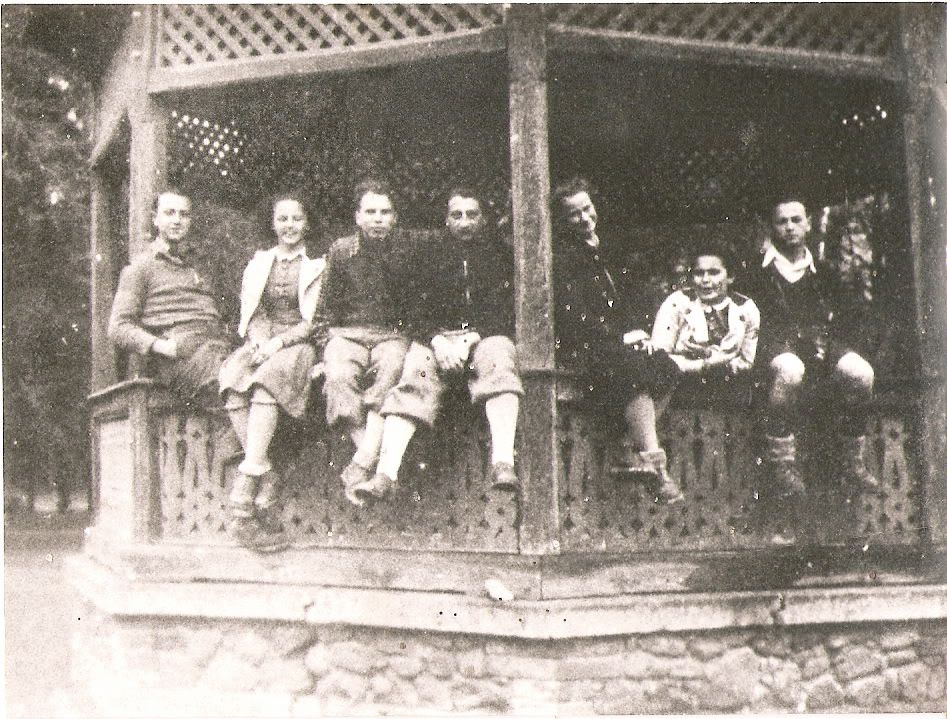 My father is fourth from the left with some of his scouting friends, and their female friends.
Lists are, I am told, a boys' thing. I am, by virtue of being born one, of that persuasion, so, because this week is going to be difficult for longer, more complex posts - though who knows? - I thought I'd supply some miscellaneous lists. In tens, of course. A theme for each day.
TEN LIKES AND TEN DISLIKES
OF MY FATHER (1917-2010)

Dislikes

1.

Men with pony-tails, men with ear-rings and men with tattoos

(count as one, same thing, really) - All signs of disrespect. See 7.

2.

Anne Diamond

- She'd done the dirty on someone, or had behaved reprehensibly in some way. Frankly, who cares?! (He did.)

3.

Other drivers

.

Te csúnya madár!

- Hungarian for, literally,

You ugly bird!

(try

You ugly git!

for full force) directed at other drivers.

4.

Tony Blair

- Not particularly because of Iraq, just generally. Everything he hated. Case closed.

5.

German industrial products

- The War. Need you ask?

6.

Hungary

- The War. Need you ask?

7.

The habit of addressing people by their first names the first time at first meeting

- It was like an invasion of personal space to him, as if someone were speaking three inches from his considerable nose.

8.

Self-pity

- A thoroughly admirable dislike in my view too, but his distaste for it was backed up by far harder experiences than mine.

9.

Dogs & cats

- This was one of his pretences:

Take the dirty beast away

, he'd say.

10.

Women's voices on TV

-

I can't hear them properly

, he'd say, and this might have been true, on account of the higher pitch.

They speak too fast

, he'd add, but that isn't true.


Likes

1.

Tottenham Hotspur and MTK Budapest football teams

- Cultural reasons. (MTK, originally, the athletics club of the rag trade, say no more.)

2.

Bread with butter and jam

- The little boy in him. There was quite a lot of that along with the responsible and wary adult.

3.

The pleasure of announcing that he had peeled, washed and diced the potatoes

- The little boy again. Didn't cook. Very much Old Man. He also hated washing up, ie getting his hands in dirty water, and him a plumber before and after the war, I ask you!

4.

The boy scouts (Jewish branch)

- Long story, exciting story, surviving story, necessary story.

5.

Family

- I counted them out and I counted them back in again.

6.

Hungary

- Everything apart from the War.

7.

The Hungarian language

- He loved collecting old sayings, jokes, idioms. They were home to him.

8.

An orderly mind

- Vital for survival, to be encouraged in others, but fascinated by, and in thrall to, passions, instincts and disorderly minds (eg my mother)

9.

Marzipan

- The taste of childhood. We must all have something like this.

10.

Playing the mouth-orga

n - His delight, his party piece, his memento from the work camps in the Ukraine.

It's interesting that
Hungary
should be on both lists but I'm sure that's right.
Risk
would be on both lists too. Once in England it was not for him to take risks with his family, but - unexpectedly, miraculously, heart-warmingly - he encouraged me to take risks while young.
Risk
might have been on the list, of course, but the list is restricted to ten. It is in no particular order. Tomorrow a list of my ten most disliked phrases in common use.