The BNP dressed is an ugly sight, undressed it is both ugly and ridiculous. Nice to know what its leader
thinks
:
The BNP chairman Nick Griffin spoke to the BBC to defend a party leaflet that said black and Asian Britons "do not exist", arguing that calling such people British denied indigenous people their own identity.

"In a very subtle way, it's a sort of bloodless genocide," he said.
Terrific stuff. And subtle to boot. I can see the headlines:
NON-EXISTING PEOPLE COMMIT BLOODLESS GENOCIDE!!
Being British, he says, is not an administrative condition but an ethnicity. A bit like being a Beneluxian then. Beneluxians are an ethnic lot.
Still excrement tends to talk excrement. Shit will out.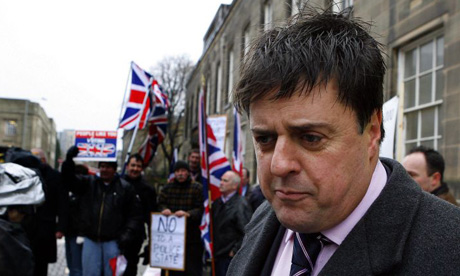 Griffin post-shit.
*
I am myself a touch tired, what with all this travelling and talking and deadlines and tutoring and trying to keep up with
la vie administratif.
And C's mother has been taken ill, so she has driven down to spend a night or two with her. On Sunday to Oxford for workshop and reading. On Wednesday to London for readings at The Athenaeum and at Keats's House. Details to follow.