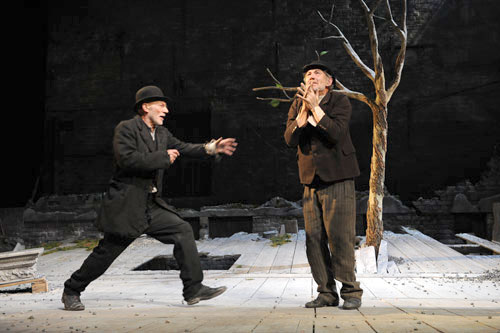 Many years ago I felt ignorant asking another writer what the word meant. It was nicely explained, and for some reason I don't forget these moments of enlightenment.
Stichomythia
is alternating lines of dialogue in drama or poetry, a kind of formalised repartee. The word came flying through the dark at me this afternoon at the Theatre Royal where this extraordinary cast of Ian McKellen (Estragon), Patrick Stewart (Vladimir), Simon Callow (Pozzo) and Ronald Pickup (Lucky) were vowing the provinces with Beckett. You can't help but think you are watching a moment of theatrical history moving past you like Cleopatra in her fiery chair.
The auditorium was fully packed, mostly silver-haired as matinees tend to be, but not exclusively so. Silver-haired theatrical afternoons are sometimes a touch quaint. I remember when Jenny Agutter appeared in Measure for Measure and got a disconcerting round of applause just for turning up at her first entrance. Never serious, the old. On this occasion though the silver hair looked distinguished, intent, rapt.
It is after all a marvellous piece of work, your
Godot
and the cast of theatrical royalty did the Theatre Royal proud. McKellen and Stewart played the comedy as music hall, but not over the top, just gently brewing away at the comic-melancholy
stichomythia
with a gesture here and a look there, the timing absolutely perfect. Laurel and Hardy are the first to come to mind, but Morecambe and Wise in old age is not altogether off the point either, nor is Abbott and Costello. A touch of Archie Rice there too, and maybe somewhere Arthur Askey.
Yes, all that, but much darker, much more gallows humour. They do after all consider hanging themselves.
Beside the comedy McKellen and Stewart concentrated on the affection between Vladimir and Estragon. Every so often they embrace, a little like Teletubbies, but they stink and grumble and bitch about each other too. They are warm. They are, as all double-acts are, two halves of the same ideal form, the reconciled self, which may be why we ourselves take to them. The dialogue they act out is one that is constantly running in our heads. This line of thought began running in my own head during the interval. Maybe that is why we accept - or did accept - Morecambe and Wise in bed with each other, why they were never apart for a moment. They were the whole self as a pair. Naturally, they would be in bed together.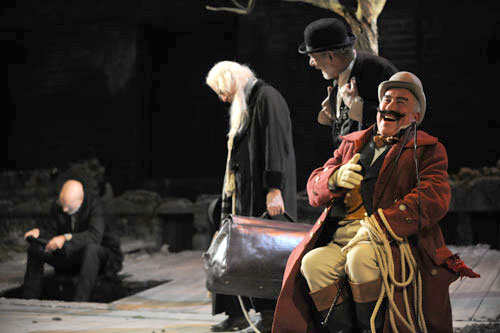 The other double act, Pozzo and Lucky, have a magnificent first half. Callow's Pozzo was a clown-plutocrat figure at the edge of grotesque, dreadful, puffed up, demanding, dictatorial, cruel and selfish, just a few blocks down from Pa Ubu. His alter ego, Ronald Pickup's frail and superb Lucky never had a chance. Pozzo had sucked the life from him, Watching Pickup perform Lucky's long monologue was like watching a gramophone needle slip off an old 78: life contracted to a fizz of sound that sounds like words but is essentially just cry and collapse. Lucky is distinctly pre-revolutionary.
The second half of the play is a little more portentous and less energetic. The despair, desire and meaninglessness cannot help but sound a touch programmatic now and then, though the production carried it off as well as could be, and despite the somewhat heavier tread of the dialogue, the humanity of the central pair remained with us. That and the sense of the range of human possibility in its own ordinary space, a space where there is no plot as such, just talk against a background of passing time, to which constant reference is made. That is the true space around which the action, such as it is, arranges itself.
Ordinary talk and stichomythia. It is fascinating how 90% of the play is apparently inconsequential talk. The function of talk as opposed to action. I think back to the most successful scenes in Tarantino - the parts that everyone remembers about burgers in the car, or at Jack Rabbit Slim's where Travolta and Uma Thurman just talk, where the weight of the 'plot' falls from round our necks like the albatross from the neck of the Ancient Mariner.