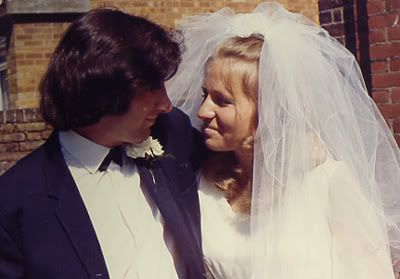 G and C wedding, 1970
Scheming a poem for daughter's wedding in June, I recall our wedding, C and I, end of first year fine art undergrads, with no money, in fact nothing much. One suit, a few paints.
C's father married us in West Drayton, at Swan Road Baptist Church, a building of no recognisable artistic merit. He was the minister there, a great eccentric, a wholly unsuitable minister for such a prim little community. The church was plain 1950s brick with distinctly Calvinist leanings. The congregation was, well, the congregation. There was no alcohol. We didn't care. Four friends from art college turned up in leather jackets and jeans. My brother played violin with C's sister H on the piano. Meditation from Thaïs was one piece. J, my best man, made a speech, I made a brief speech. The July sun outside was blinding. What was going to happen to us? We went by train to Liverpool and spent the night at the Adelphi, grace of my Leeds landlord, an ex-teddy boy who later went to jail. The next morning was stormy and we boarded the Isle of Man Steam Packet Company ferry to Douglas in a Force 8 gale. Thence to the west of the island to a small house by the sea. It was a sort of sensual Puritan phase for both of us. The symbol could be as plain as it liked as long as heart and body were alive. Here we still are.