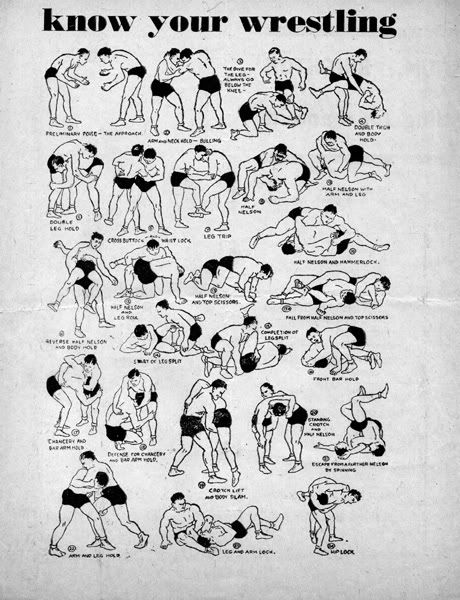 For a few years I was trying to write a novel about wrestling, but it turned out I wasn't a novelist. Which doesn't mean I can't write about wrestling (in fact I have written a number of poems about it and pieces of journalism). Of that mass of material I want to resurrect a few pieces that seem to me still to be worthwhile.

A snippet, clearly not fiction, but not necessarily fact either...
*
Sociologists of the structuralist school believe that wrestling is a social ritual and therefore carries the values of the ruling elite. All rituals do this but professional wrestling, with its expanded theatre of stereotypes, provides the richest illustration of their thesis. The bibliography is long. Michael R. Ball's hard-to-find book
Professional Wrestling as Ritual Drama in American Popular Culture
lists 170 relevant articles, putting aside fanzines or fictional occurences. It does not include Angela Carter's 'Giants' Playtime' essay from a 1976 issue of
New Society
. Shame to have missed that. Ball was only after American examples of course but he would have found much to learn from the Brits.
The tigers of wrath are wiser than the horses of instruction and the subjects of sociological research are almost invariably wiser than the sociologists. Gray mentions a late forties tag team in Baltimore, calling themselves the Bolsheviks who sang the Russian National Anthem for WWF as their entry theme. Blindly arrogant villains, they stood in sharp contrast to the honest Nikita Koloff, who was likewise Russian, but remained a solid favourite.
Long after the Bolsheviks, in the late sixties, there was a British tag team called The Righteous Brothers. The Righteous Brothers consisted of Che and Ho, men with beards and a certain limited knowledge of the technical aspects of wrestling. They were before their time in this respect, as soon you would need no knowledge at all. They would enter the ring with a Black Power salute, strip off scarlet gowns to reveal T shirts with screenprinted images of their adopted characters, set off by psychedelic patterns. Their ankles were yoked together by a single chain that they ritually broke as they were being announced.
The Righteous Brothers' real names were Mackenzie and Howe. Colin Mackenzie had been a stevedore in Liverpool and Crispin Howe was a bricklayer from South London. They had been brought together by their manager Julius Fowler, who was a genuine innovator, the first of the 'character' managers,. He arrived in top hat, opera cloak and cane and a heavy fob watch, the archetypal capitalist driving his victims before him. His stage relationship with The Righteous Brothers was clearly exploitative. He made a great fuss of sneering at the SWP table outside and occasionally upending it. He would hold the chains discarded by the Brothers during the contest and strike at their opponents with it, working up a roar of fury from the crowd. Having been employed in the theatre as a scene shifter and attended WEA classes in the development of socialism as ideology, he was perfectly aware of his social and ritual function and could quote large chunks from the 1848 manifesto. Some time in the early mid-sixties Fowler had made friends with a group of artists wearing Chinese 'revolutionary' outfits who had erected co-operative Mao tents at the ICA. He met Mackenzie and Howe later, Mackenzie at a dockers' strike where he was distributing leaflets and Howe at a pub in Deptford. Fowler loved wrestling and so did they, two strapping lads without money. Mackenzie played football and kept fit at the local baths and Howe had done a little judo. That was enough. Fowler's friends say that the idea for the tag team came from toying with the names and appearances of Mac and Howe. Howe sounds a little like Ho, and Mackenzie looked like Che Guevara.
Fowler knew that entering a commercial web meant playing by commercial rules. He would adopt the biggest grinning capitalist mask and play it straight. The Righteous Brothers was just perfect as a tag name. 'You never close your eyes when I touch your fingertips - you've lost that loving feeling" was a terrific song and made fine entrance music (Fowler was an innovator in this too.) He had photographs taken of the boys, Mackenzie in camouflage gear and a beret and Howe in Mao jacket and cap with a red star on it. He even had Howe holding a little red book. The fliers said, The Revolution is Coming! Justice with The Righteous Brothers! The major promoters considered the idea, but were not taken with it. They knew their audience. Exotic was fine but not if it was serious. Class was irrelevant.
Patriotism was far more appealing. Big John Cox, the ex-ambulance driver from York, Angela Carter tells us, had memorised thirty six of Churchill's speeches. She had read this in Mick McManus's
The Mick McManus Wrestling Book
(another item missed by Michael R. Ball). There had been an American a few years before, a vast twenty stone man. He had been told to generate some passion on his debut at the Wythenshawe Hall in Manchester, and his idea of doing so was to introduce himself as an ex-soldier, which indeed he was. He had fought with our boys in the war. This got a big cheer. Up on the beaches. Another cheer. He waited for it to die down. And they were the biggest lot of dirty cowards he had ever seen, he added. The audience rose to its feet and wanted to murder him. It was never the same afterwards. He went about in fear of his life. He and his tiny wife scrambled about the country in a filthy caravan. She was never heard to say a word to him, but he was under her tiny thumb, or so they say. After a year he returned to America.
The Righteous Brothers were mediocre wrestlers. Fowler worked hard to get them bookings, but their only regular bouts came in the South West. It was respectable Liberal country with a transient population of bohemians who were attracted to the idea of seeing Che and Ho's namesakes in the ring. Ho and Che were rarely allowed to win in any case, so Fowler milked them for sympathy (One Day They Will Rise and Finally Break Their Chains). The odd excursion to London, to Croydon or Hackney, brought out the SWP crowd and a few journalists. They did once feature in a photograph in the Mirror, linked to another story, but that was as far as it went. The hard core was a small following in Plymouth and Bude.
The Righteous Brothers worked three summer seasons and the occasional winter gig, but it was disheartening for them. One day in 1974 they had a call from a wrestler acquaintance in the USA suggesting a visit. The American promoter was definitely interested. So Che and Ho left Fowler behind and got a flight out. Their movements became ever more difficult to trace. One day, after a card in Alabama, they were cornered in a bar by a group of drunks. Having drunk a fair amount themselves they took some punishment. They drove off into the dusk, missed their road - someone remembers being asked for directions - and must have got lost in a swamp. The car was dragged up later but they weren't in it. They had simply disappeared.
The real Ho died soon afterwards. Fowler did once attempt to trace The Righteous Brothers. He found himself in front of a vacant lot where another bunch of drunks were hanging about. He was drunk too. A scorpion scuttled by in the gutter. The revolution eats its children. He turned round and came home.
*
A miscellaneous piece that didn't - couldn't - get into the book. A touch heavy and possibly not usable in most contexts, but the idea that I could go off into anecdotes, some entirely spurious, still seems appropriate to wrestling and appeals to me.