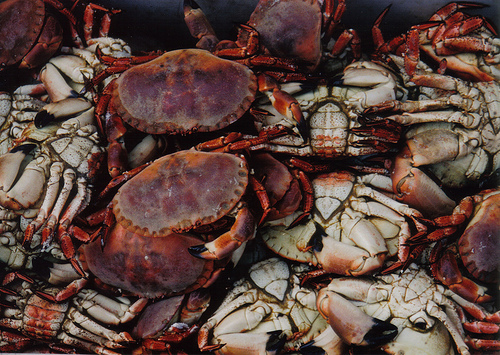 This is a Tweet Film Noir.
Location: The North Sea near Cromer Pier.
The crab is played by Humphrey Bogart, the lobster by Lauren Baccall.
But you already knew that.
One rusty stethoscope. One set of greying surgical gloves. One pair of blunt forceps. Life could only get better for the doctor. But not yet
There was a card lying by the doctor's rock. NEPHROPS, Norway Lobster, Professional Services. As what? wondered the doctor. And why?
It was the cutest lobster this side of the Humber Line the doctor had met in his crab days. Call me Scampi, she said, and smiled.
Scampi Langoustine, long of limb, curved an elegant tail and yawned. It was going to be a long night for the doctor.
The doctor was accustomed to hard-bitten prose. Nothing was going to change here. Scampi Langoustine, she added. Hi.
Her antennae were slender, slightly on the long side. Her kidney eyes gazed at him steadily. Nice orange, said the doctor. For a lobster.
NEPHROPS, North Sea Ecological Personnel, High Order Priority Service, she explained. Sure, growled the doctor. A prawn. Sit down.
What about the R, asked the doctor. What does it stand for? Everyone stands for something, she murmured. You might find out.
Scampi Langoustine, representative of NEPHROPS, was neat as salad dressing. The doctor offered her his own card that said simply: Crab.
You don't give much away Doctor Crab, said Langoustine. How far can I trust you? The doctor waved a nonchalant claw. How far are you going?
Next exciting episode follows almost immediately!