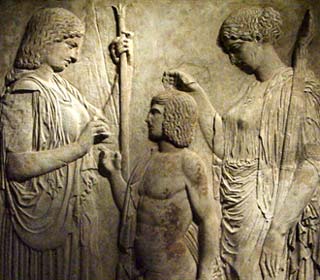 I think I once had legs. They are almost gone at this time, not that it is
that
late, it just feels like it. It is the constant work.
Brain is fine. But who is to know? It is brain reporting on brain, and brain too might well be shot to pieces for all brain knows. This, I think, is the time to produce the other 'prophetic poem':
New Year Canticles



1.
The new government is the old government,
The new year is the old year in new shoes,
The new testament is the old one reversed,
The new man is the old man newly cursed.

The new poor are the old poor plus a few.
The new itinerant is the old bum.
The new lie is the old lie, and then some.
The new Titanic steams on through old scum.

2.
When they blew away the dust they found
a brand new darkness underneath.
It surprised them. They prodded it with sticks.
It didn't move for ages, then it stirred.
It wanted naming but they couldn't find the word

3.
You think of your children in the early light
of the new era. You think of birds in flight.
You think of a cup in the kitchen in the broad
sunlight of mid November, of the faint noise of the road.

You think of the rhetoric of time
as a faintly bombastic ticking. You think of buds
ticking away in the branch under the rime.
The emblematic delicacy of soap suds.

4.
And the notion of an uninterrupted passage
towards happiness, the joy of the unkissed moment
waiting to fly past you, reassuringly off-message,
like a ludicrous, airborne, angelic monument,

Cupid on a bender, a sweet urgent gust
of well-being. Love among the just.
The reference to the advent of Barack Obama is all but overt. There he is in the last section. It is nothing less than the full Isaiah. Or Virgil's
Fourth Eclogue
.
Can't quite remember when the poem was written. A good six or seven years ago, I think. It's in the
New and Collected.