And, of course, Kristallnacht.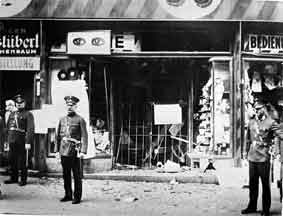 The YouTube Kristallnacht material is poor. Either school projects, worthy of course, but being dutiful and enthusiastic is somehow off the point. Or there is footage with average music. Or there is fascist punk stuff. So no movie, just a little picture.
As to the First World War, I know by heart some of the songs of the period. We used to have a book of sheet music and the words went in and stayed in. I almost prefer the songs to some of the well-known first world war poems. They know both less and more. They are mostly in Joan Littlewood's 'Oh What a Lovely War' but they are best sung without accompaniment or bare accompaniment. Not sung too well in fact.
Now to Newcastle